Doctor Silver Ion began its academic research in 2004 with antiviral, antimicrobial, and antibacterial fabric technology. Research
continued in 2014 at Istanbul Technical University's Textile Engineering Faculty and ITU Technopark (technology development
center), with a mission to develop innovative solutions by creating patentable technologies.
Hippocrates Changersla R&D and Nano Technologies Inc. has developed and produced product and brand groups, including
Doktorsilverion-Silverionmask-Changersla, in the medical sector. These include healthcare products, surgical masks, and N99
category masks developed for doctors and athletes using antiviral textile fabrics.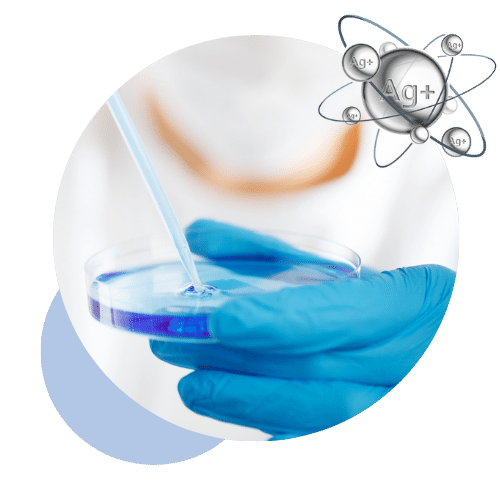 MISSION

AND

VISION

STATEMENT
Using Silver Ion and Organic Polymer technology developed with Nano-particle technology in the field of tissue engineering, our primary focus is to develop protective, reparative, and healing processesagainst skin discomfort.
Doctor SilverIon promote the importance of older adults' health care and wellness. Their ultimate goal is to keep all the residents healthy and function at their highest level.
We are the manufacturer of Dr. Silverion Body Care
products which are designed for bedridden patients and intensive care patients. Due to the special formula, our products are effective against viruses, bacteria, fungi and eczema.
Our vision is to develop innovative and technological products through R&D processes, incorporating international academic
and laboratory research on ion and polymer technology to create patent-worthy products. We aim to establish international
distributor and dealer networks, transforming our brands from a local startup focused on continuous innovation and
technological product development into an international company within 3 years in 15 countries and within 5 years in 30
countries and regions.
We have meticulously analysed all the formulations of the world's leading brands, and in the process we have gained a better understanding of the human predicament.
We have found that most formulations are limited to the ability to moisturise the skin. However, we have taken a more comprehensive approach.  We have developed 5in1 technology, which combines five different functions that five different products can offer in a single product.
Thanks to this technology, we have created a product that can not only increase the moisture of the skin, but also meet different needs such as nourishment, renewal, protection and repair. Thus, we help people manage their daily skin care routine in a more practical and effective way.